When designing the R 14, TR 14 and SR 14 microphones we wanted to create a classic vintage-style ribbon microphone in the vein of the early RCA microphones.
We used classic long ribbon geometry. Thin corrugated aluminum ribbon is tensioned between two rare earth neodymium magnets. As the ribbon moves with the ambient acoustic air pressure variation a current is induced in the ribbon itself. This current is the microphone's output signal. The ribbon is placed just forward of the magnet center. This provides a very slight low-end roll-off on the backside of the microphone, which can be very useful if proximity effect needs to be countered. The R 14 delivers clean, balanced output through the use of a custom output transformer. The R 14's sound is rich, warm, and silky smooth with generous low end. It is un-hyped, natural, and takes EQ very nicely. The R 14 ribbon microphone is the perfect complement to the condensers in your microphone collection.
Long Geometry Ribbon
Classic Ribbon Sound
Very Low Self Noise
Handle Very High SPL
Custom Wound Output Transformer
Microphone kit comes as a complete system including:
R 14 Microphone
Wood Microphone Box
Shock Mount
Velvet Bag
Contact one of our
dealers
for the best service and pricing!
A few details that make the R 14 so special
Standard 3-pin XLR connection.
Our classic long ribbon geometry element with protective fabric.
Thin corrugated aluminum ribbon tensioned between two rare earth neodymium magnets.
Custom wound output transformer
Our ribbon microphones deliver a clean, un-hyped, natural sound comparable to the popular ribbons of the 1930's.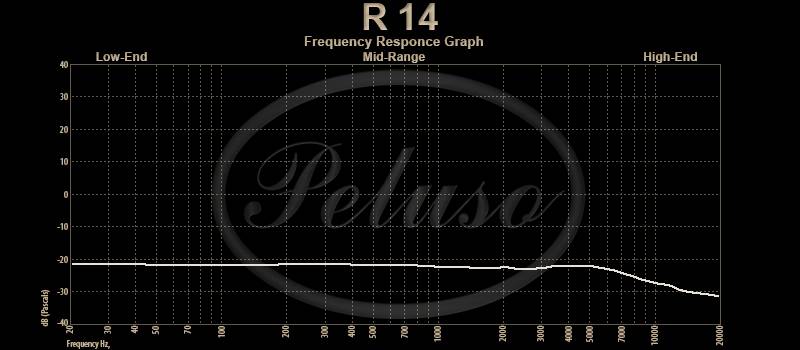 Type: Ribbon-Velocity Studio Microphone
Operating Principal: Electrodynamic Pressure Gradient
Magnets: Rare Earth Neodymium
Frequency Range: 30Hz/16Khz
Polar Pattern: Figure of 8 (Bi-Directional)
Sensitivity: -52 dBV (re 1v/pa)
Impedance: 200 ohms
SPL: 149 dB
Equivalent Noise: 0 dB(A)
Power Requirements: none required or recommended
Size: 36mm x 176mm
Weight: 496g
Our community of artists, engineers, and reviewers have been busy putting the R 14 through its paces. We present the following content to help you better understand the unique nature of this microphone.
The R 14 and SR 14 microphones employ the same element and circuit design. Out YouTube playlist for these two microphones is combined. The R/SR 14 was used on the following sources in this playlist: In Studio - guitar amp; Clay Hess & Kyle Estep - acoustic guitars; Sierra Hull & Justin Moses - mandolin, guitar & Sierra's vocal; Taylor Ashton - drum kit; Ana Egge - drum kit; Mike Wheeler - guitar & male vocal; George Jackson with Joe Overton - fiddle & banjo; Big Daddy Love - drum kit; GOTE - drum kit; Isaac Hadden Project - drum kit; The Kody Norris Show - bluegrass ensemble single mic; Bill & The Belles - string band single mic with vocal & harmonies... and many many more!
Click the YouTube Playlist Icon in the frame to expand to see all the videos of the playlist.

SoundCloud Content Samples
These SoundCloud samples provided here are intended to provide examples of the selected microphone in use on specific sources and vocals. Some samples are provided both inside a mix and as isolated raw tracks. These samples are available for high resolution download to be experienced within your own listening environment and signal chain. We give credit and thanks to the artists who have provided these! If you find this helpful and have a sample you'd like to include please contact us!