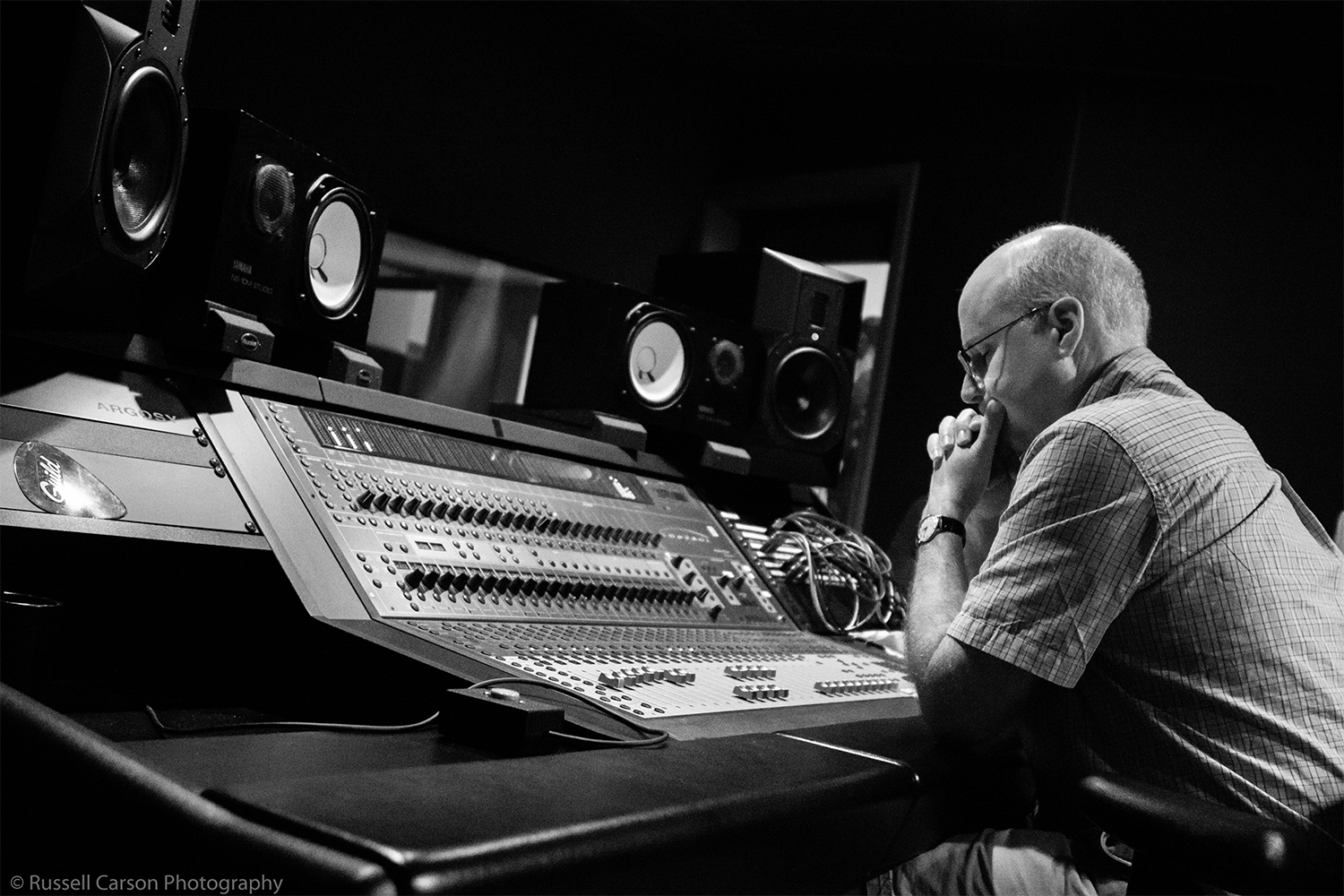 "I used to covet vintage microphones, but that all went away when I discovered Peluso microphones. My Peluso mics capture what I need in the demanding world of acoustic recording. John Peluso's expertise is of great value to me, and I treasure our friendship. And I treasure his mics." – Ben Surratt
Ben Surratt; Recording Engineer, Producer, Live Sound Guru, Leader
25 year recording engineer veteran and Grammy nominee, Ben Surratt, has received several International Bluegrass Music Association (IBMA) awards for his work with some of the top bluegrass artists in the genre. Ben's work on the 2016 release for Joe Mullins and the Radio Ramblers gathered the IBMA Gospel Recorded Performance of the Year award for "All Dressed Up" His multi-album association with the award-winning Gibson Brothers has earned him several honors including 2013 IBMA Song of the Year with,"They Called It Music", 2012 Gospel Recorded Performance of the Year, with "Singing As We Rise", and the 2011 Album of the Year for "Help My Brother".
Ben's recording of Peter Rowan's "Legacy" CD on Compass Records received a Grammy nomination and he has also won the prestigious DOVE Award for recording Pine Mountain Railroad's "Beyond The Rain".
Additionally, Ben is becoming a well-known and sought-after producer within the bluegrass and Americana fields. In 2010 he gathered both engineer and producer credits for the IBMA Recorded Event of the Year, "Give This Message To Your Heart", by Larry Stephenson, performed with Jamie Dailey and Darrin Vincent from Larry's land mark project, "20th Year Anniversary".
The long list of artists Ben has recorded includes, The Steel Wheels, Joe Mullins and the Radio Ramblers, Chris Jones and the Night Drivers, Claire Lynch, Jamie Hartford, The Osborne Brothers, Roland White, Kate Campbell, Helen Highwater Stringband, The Farewell Drifters, Missy Raines, Jim Hurst, Bill Evans, and comedian/composer Ray Stevens, among others.
He has also recorded such artists as Marty Stuart, Connie Smith, Dale Ann Bradley, The Whites, Alison Brown, and Sam Bush, to name a few.
Ben's live sound reinforcement career spans more than 40 years, having begun at the early age of 15 while touring with a local professional sound company in the Shenandoah Valley of Virginia where he was raised. Since those days, Ben has become a respected and sought-after live sound engineer who has toured on the road with Blue Highway, Alison Brown, Sierra Hull, Claire Lynch, The Lynn Morris Band, Missy Raines & The New Hip, Della Mae, and the Grammy-nominated Robbie Fulks. Ben is also a freelance staff engineer at The Station Inn in Nashville, TN.
Ben has a B.S. from James Madison University, Harrisonburg, VA, in Communication Arts (Radio/TV/Film), graduating in 1982. Ben also attended Belmont University in Nashville TN, gaining credits toward a Music Business degree.
A graduate of IBMA's Leadership Bluegrass program in 2001, Ben then went on to chair the Leadership Bluegrass Planning Committee from 2002-2004, returning to the committee for another stint in 2013. Currently, Ben Vice Chair of the IBMA Board of Directors and is active on several subcommittees.
In 2004, Ben built his own recording studio, The Rec Room Studio, in Nashville, TN, where he continues to record and produce projects. Ben also freelances as an independent recording engineer at other studios in Nashville and around the country.
My Peluso Microphone Collection